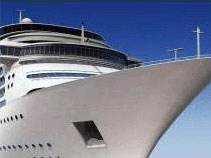 Designed to be a watertight film while holding additives to make it slick and hard over the surface to resist the attachment of barnacles, seaweed and algae.
ENAMO GRIP SAS – designed to apply over metal, concrete or wood and be a tough but a slick surface to resist the application of graffiti paint or markers. Once the paint or market is applied, the markings can be removed without shadow with the Graffiti Cleaner or slight solvent. Enamo Grip SAS is a permanent surface coating that can withstand removal over time with 5-10 removals before re-applying.
---
ENAMO GRIP 5000 (Polyester) – Used as a top coat for color and UV protection with heavy industrial strength to guard against chemical splash and acid rain. Can withstand Skydrol® hydraulic fluids used in aircraft when applied to flooring. Comes in colors and clear. Never used for underwater. Two-part solvent based.