Expansion Joint Fabrication
Atlantic Construction Services, Inc. offers a wide variety of quality custom fabricated fabric expansion joints, molded joints E.P.D.M, and Viton Belts . Fabric Expansion joints allow for additional movement capability, isolate vibration and noise, and allow for misalignments. Their ability for movements in a small space, spring rates, and large temperature range (ambient temperature to 1800°F) give them an advantage not available with a metal expansion joint. They install and replace easily and are less expensive than the traditional metal expansion joints.
Fabric expansion joints work well for large lateral and axial movements, and can handle temperatures up to 1800°F. They are designed to last for years in extreme conditions. Fabric Expansion joints are needed in a wide array of industries, including pulp and paper, waste to energy, and countless other industrial facilities.

Atlantic Construction Services, Inc. can offer a variety of styles and materials to meet your specific requirements, and we can ship direct to you or your facility. ACS, Inc. is here to help address any issues that arise with your expansion joints. Along with the fabric belt, our metal fabrication shop has the ability to fabricate stud and clamp bars, flow liners, and flanges to meet your needs. Contact us today to speak with our qualified expansion joint consultant.
Benefits Include:
Tremendous Movement Capabilities
Can be patched onsite
Easy to splice (if required) once installed
Replacements can be manufactured within days
Less Costly
No size restrictions on area or face to face
Available in "U-Type" and "Belted" designs
Vibration Control

Custom Manufactured by our on-site experts
Temperature Ranges 400° to 1800°F.
Can provide baffles, insulation pillows, back-up bars, frames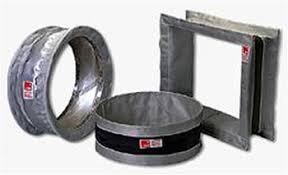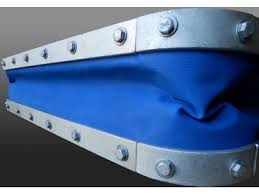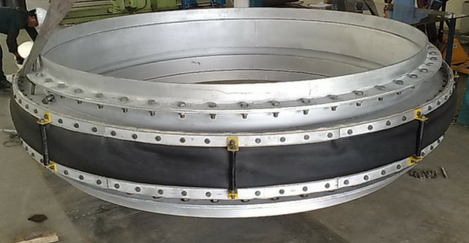 We Offer:
Fabric Expansion Joint - EPDM
These are a flexible element material used for fabric expansion joins, and are reinforced with fiberglass. This are available in 1/8" and 1/4" thickness, and are rated for 300°F. EPDM is low in cost, high tensile strength, flexible, and has an excellent resistance to oxygen and ozone.
Fabric Expansion Joint- Viton®
Our Viton® expansion joints offer an outstanding resistance to chemicals, oils and heat. They also offer an excellent abrasion resistance, and are rated up to 400°F. We offer these belts in 1/8" and 1/4" thickness.
Fabric Expansion Joint-Teflon®
Our PTFE expansion joints have an excellent chemical resistance, zero porosity, and can be used in both wet and dry environments. These expansion joints should be protected from abrasive media with a liner, and are rated up to 600°F.
Fabric Expansion Joint- Composite
Composite expansion joints have a multi-layered design with insulating layers, reinforcing piles, and vapor barriers with either fluoropolymer or elastomeric covers. The various combinations of materials used can allow for high temperatures ranging from 400F thru 1200°F.
Fully Molded Duct Expansion Joint
Our high quality fully molded expansion joints, are available in round or rectangular in a wide variety of sizes. These expansion joints are molded with no splices, and incorporate metal backing rings on the flanged connections. They are available in a "U" style for economy and a smooth bore, and also in a arch style for the longest movements for a given face-to-face length. These designs absorb noise and vibration very well, handle expansion and misalignment, and have low spring rates. They are long lasting, easy to install, and using the integral flanges provide a great seal without using a gasket.